Home > Things To Do >Itineraries >
Enjoy several relaxing days in the Santa Ynez Valley
DAY ONE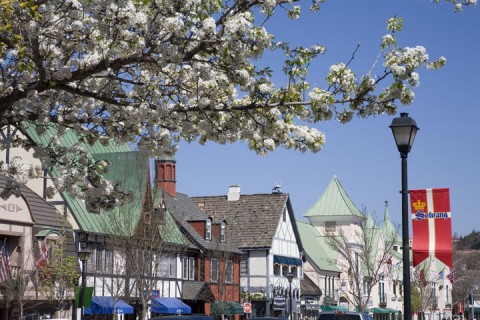 Stroll the European-style streets around the village of Solvang; hop aboard the historic horse-drawn Solvang Trolley for a tour or rent a "surrey cycle" to roll through the village. Sample the Danish bakeries and foods and shop for art and antiques. Learn about history at the Elverhøj Museum of History & Art or the 1804 Old Mission Santa Inés.
In the summer, enjoy professional theater productions under the stars from PCPA at Solvang Festival Theater. Year-round entertainment happens nearby at the Chumash Casino Resort in Santa Ynez offering 24/7/365 gaming and weekly top-name concerts and live entertainment in the Samala Showroom.
DAY TWO
Do some delicious wine touring and tasting throughout the Valley with more than 70 vineyards and tasting rooms to choose between. Go on your own or sign up for a limo, van or even a jeep tour with professional area guides. Have a picnic lunch in a vineyard or next to a waterfall at Nojoqui Falls County Park. Choose from dozens of dining options from wine country-inspired or international cuisine.
DAY THREE
Absorb local lore at the Santa Ynez Valley Historical Museum & Carriage House in Santa Ynez. Then, meander through wine tasting rooms, boutiques and art galleries of Los Olivos plus the latest exhibits at Wildling Art Museum. Check out collectables and western history in Los Alamos (the vintage train depot is now an Antique Mall & Wine Pub) and have lunch in a café/art gallery.
DAY FOUR
Bicycle country roads or take a short hike into the Los Padres National Forest. Enjoy a guided nature cruise on Cachuma Lake or angle for fish from the dock. Tee off in style at The River Course at the Alisal or Rancho San Marcos Golf Course. Relax and enjoy the sunset. Plan to return soon.