China
索夫昂欢迎中国游客
Solvang Welcomes Chinese Visitors
索夫昂欢迎中国游客
Welcome to Solvang, a special place for small meetings, weddings or family reunions, wine tasting, boutique shopping and sampling authentic Danish bakeries and International cuisine.
欢迎来到索夫昂,一个分非常特别的地方,适合小型会议,婚礼或家庭团聚,品酒,精品购物,美味的丹麦传统糕点和国际美食。
Solvang - A place for relaxing peaceful vacations, where you will find hotel deals for leisure travel in the historic town of Solvang's Danish Village. Enjoy more than 20 wine tasting rooms in Solvang, and the 100+ vineyards and wineries of Santa Ynez Valley.
索夫昂- 适合放松宁静假期的地方,能为您在古镇的休闲旅游带来不同的酒店打折信息。享受丹麦村的二十多个品酒室和圣伊内斯山谷酒庄的一百多座葡萄园。
An Insider's Guide to the Best Things to Do in Solvang. Boutique Shopping, Outdoor Adventure, Wine Tasting, Vineyards, Craft Beer Tasting, and unique Museums.
内幕指南有着索夫昂丹麦村最好的旅游攻略。精品购物,户外探险,品酒,葡萄园,工艺啤酒品尝,以及独特的博物馆。
From Santa Barbara County wine country wine tasting and tours to horse-drawn trolley rides, from boutique shopping to surrey bike rides and country road cycling to riding a segway to walks through the Historic Danish Village of Solvang, there are attractions and things to do with family, kids, and friends. You will enjoy fun times outdoors and the peaceful, beautiful, relaxing times here with many things to do indoors. Tour wineries and sample real authentic danish pastries in Solvang and enjoy the fresh foods of the Santa Ynez Valley on the central coast of California.
---
从葡萄酒乡圣塔芭芭拉的品酒到乘坐游览马车兜风,从精品购物到多人自行车,从骑行在乡间小路到骑着赛格威游览历史悠久的索夫昂丹麦村,这里有数不清的美景和与家人、孩子、朋友要做的事情。在丹麦村你将享受户外乐趣与和平,美丽,放松的时间和许多室内也可以做的事情。参观酒厂和品尝正宗的丹麦糕点,在加利福尼亚中部海岸享受圣伊内斯山谷的新鲜食品。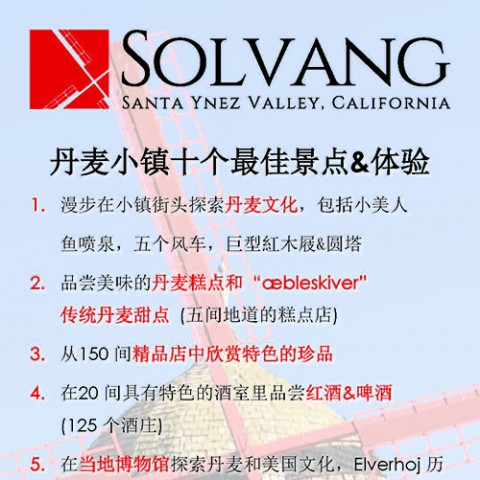 10 Things to Do in Solvang - Chinese translation
丹麦小镇十个最佳景点&体验
1. 漫步在小镇街头探索丹麦文化,包括小美人 鱼喷泉,五个风车,巨型紅木屐&圆塔
2. 品尝美味的丹麦糕点和 "æbleskiver" 传统丹麦甜点 (五间地道的糕点店)
3. 从150 间精品店中欣赏特色的珍品
4. 在20 间具有特色的酒室里品尝红酒&啤酒 (125 个酒庄)
5. 在当地博物馆探索丹麦和美国文化,Elverhoj 历 史&艺术博物馆,The Wilding 博物馆,Hans Christian Andersen 博物馆, 老式摩托车博物 馆,Old Mission Santa Ines 博物馆,琥珀博物 馆和丹麦博物馆
6. 在至少35 个餐厅里享受国际和酒乡美食,步行 可至18 个宾馆
7. 参观历史悠久的当地教堂: Old Mission Santa Ines (天主教堂) 和 Bethania Lutheran (路德教堂)
8. 户外活动:骑马,乘马车或者赛格威 (电动代步 车) 逛一圈丹麦小镇;骑车穿行乡间小路;徒步 旅行和打高尔夫球 (附近有四个高尔夫球场)
9. 在美丽的夜晚下欣赏Solvang户外剧院戏剧表演
10. 享受一年一度当地活动,Solvang 美食节(三月), 丹麦节 (九月),圣诞节 (十二月)
---
Santa Ynez Valley Star Chinese version