Solvang's Month-long Holiday Celebration, Danish Style
Solvang's Danish-style month-long Holiday Celebration begins now, with tons of new additions and fun-filled events; it runs November 27-January 1, 2021.
It's almost time for Solvang's annual Julefest Christmas celebration extraordinaire! Held in one of the "Most Christmassy Towns in America" (Time Magazine), Julefest is a month of lights, celebration, and holiday cheer, spanning from November 27 - January 1. Join us for tons of family fun, music, shopping, culinary delights, wine & beer, and more. Skål! Don't miss our traditional weekend, December 3 - 5, filled with holiday experiences the whole family will love!
Tree Lighting Ceremony
December 3, 5-6:30pm
Come out and help us kick off this holiday season with Solvang's annual Tree Lighting Friday night! The Lighting will take place at Solvang Park (First Street and Mission Drive), in the heart of Downtown Solvang.
The Tree Lighting includes various festivities including ballerinas, live entertainment, and caroling.
Julefest Parade
December 4, 11am
Celebrate with Solvang as parade floats will be traveling along the village streets Saturday morning. Marching bands, horses and more! Join us along with 400+ participants and 50+ contingents as we march and cruise down the streets of Solvang. Don't miss out on this opportunity to bring more hygge (Danish coziness) into your holiday season, and a free opportunity to meet Mr. Claus.
Make sure to join the fun of our ongoing Julefest events like our hunt for Danish gnomes (nisser), visiting Santa in his village, and interactive candlelight tours of quaint Solvang (see ongoing events below).
Ongoing Events
Nisse Adventure
Nov. 27-Jan. 1, anytime
Join in on the city-wide hunt for the mischievous Solvang Nisse (Danish for "gnome")! This group of Nisser have hidden themselves throughout Downtown Solvang and we need your help tracking them down. Find one, or find them all as you enjoy all that Downtown Solvang has to offer. Fun for the whole family!
All Julefest long, using nisseadventure.com, we will provide clues we have gathered to the various hiding spots the nisse frequents. Once you find each nisse, you will scan a QR code to continue your adventure and at the end, earn a special prize for finding them all.
Santa's Village
Nov. 27, Dec. 4, 11, & 18, 12pm-4pm
Santa's Village is open every Saturday leading up to Christmas Day. Come on out to Solvang Park with your little ones to meet Mr. Claus with Christmas lists ready! Pictures with Santa are free to all.
Candlelight Tours
Nov. 27, Dec. 4, 11, 18, 5:30-6:30pm
The Candlelight Tours will continue this year to provide special experiences for visitors as they travel up and down the streets of Solvang, singing carols and learning popular Danish traditions. Guests and locals will invited to take part in a guided tour led by a costumed guide. Every participant will receive an LED candle to hold while learning about Solvang, listening to Christmas carols, and experiencing the sights and sounds of Christmas. Purchase your tickets here.

Get more info on the entire schedule of Solvang Julefest events here!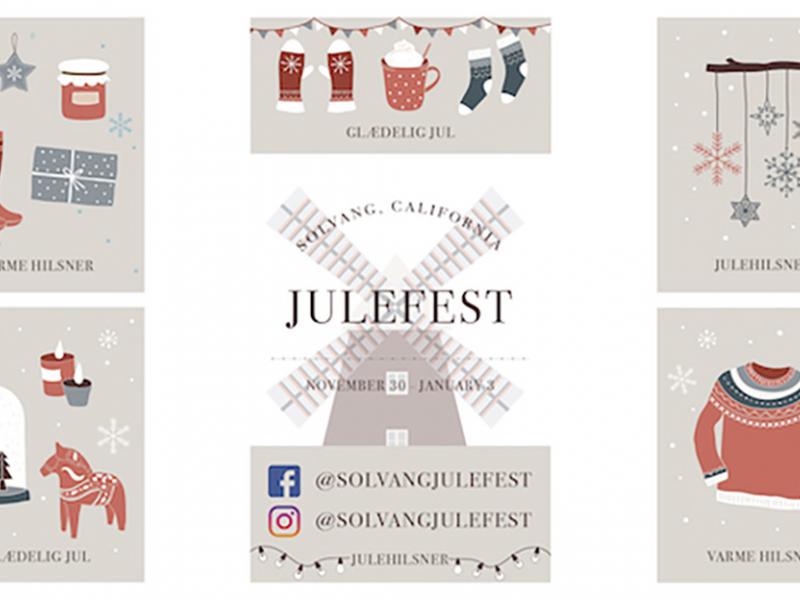 Also in the Blog
Featured Content
Brand-new Events at Solvang's month-long Danish-style Holiday…
Tentative Solvang Julefest 2023 Event Schedule (check back…
This weekend at Solvang Julefest: live reindeer at Santa's…