Brand-new Events at Solvang's Month-long Danish-style Holiday Julefest Celebration
Brand-new Events at Solvang's month-long Danish-style Holiday Julefest Celebration include a new JuleFEAST dinner under the stars and a St. Lucia Day candlelight procession.
We love being one of the "Most Christmassy Towns in America" (Time Magazine), and we really celebrate it with our annual Julefest Christmas celebration! Julefest is a month full of lights, celebration, and holiday cheer from November 30 - January 3. Join us for tons of family fun, music, shopping, delicious food, wine & beer, and more. This year, Julefest has added lots of fun new holiday experiences for foodies, traditional folks, and lovers of all things Danish!
JuleFEAST
December 12, 6-9pm
Rain or Shine! This special dinner will be a communal dining experience served under the stars in Solvang Park, among the thousands of twinkling lights which adorn Solvang during the town's most "Christmas-y" season. Guests will be treated to a smoked, local halibut dish (roasted Japanese turnip, with mushroom dashi broth) by the Ramen Kotori team; a main course by First & Oak, in the form of braised short ribs (wild mushrooms, pearl onions, whipped potatoes - see this dish here!); a second main from Root 246, braised, herb-stuffed veal breast served Ribollita-style, with kale and truffled croutons; and an imaginative dessert course from Root 246's pastry chefs.
Wines, included in the dinner ticket pricing, will be available at the tables for all guests age 21+. Tickets are $150.00 a person and can be purchased here.
St. Lucia Day
December 13, 6:30pm
This traditional candlelight procession will conclude at Solvang Park and will be followed by other parade floats decked out for their nighttime splendor.
Solvang's celebration of Saint Lucia Day is a new addition to the Julefest events for 2019! Saint Lucia Day is a Feast Day, celebrated to honor the 3rd-century martyr known for bringing food and aid to Christians hiding in catacombs during the Diocletianic persecution. The parade procession will begin with a young woman, "Saint Lucia," dressed in all white, with a red sash and crown of candles on her head. She will lead a larger procession of women holding candles.
For you foodies out there, don't miss our annual Skål Wine & Stein Stroll, a 2-day fun-filled holiday beverage tasting around Downtown Solvang!
Make sure to join the fun of our ongoing Julefest events like our:
And don't miss our brand-new Julefest events in 2019!
Aurora Dronealis will bring the excitement of Northern Lights to Solvang in a special light show guaranteed to delight the entire family on December 21. We're so excited to share it with you - drone light shows are amazing in person! We've been working hard on the soundtrack and hope you'll make this a part of your annual holiday tradition.
The Christmas Market Light Show lights the sky while shops are open late on Copenhagen Drive every Thursday, Friday and Saturday in December (see the Market Light Show here).
Dansk (Danish) New Year on December 31 marks Denmark's passing of the last day of the year at 3pm in Solvang Park.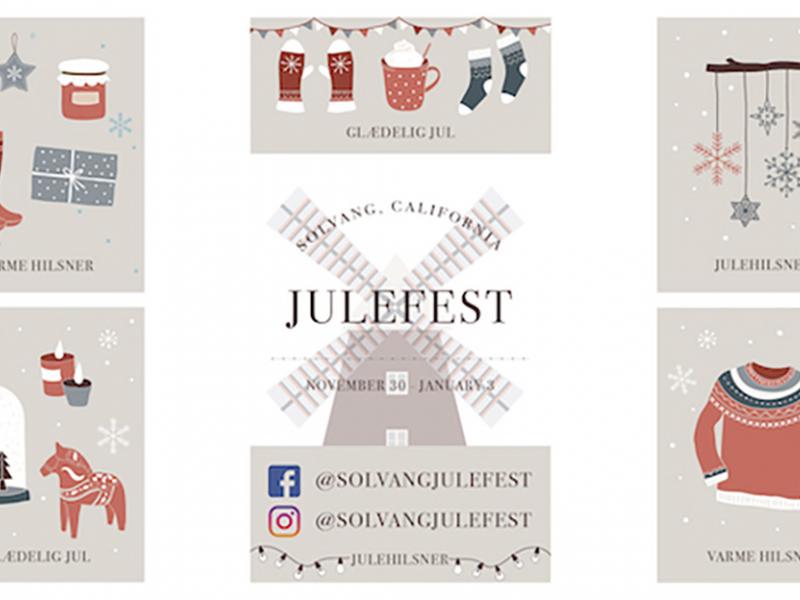 Also in the Blog
Featured Content
Solvang's Danish-style month-long Holiday Celebration begins…
Tentative Solvang Julefest 2023 Event Schedule (check back…
This weekend at Solvang Julefest: live reindeer at Santa's…