Happy Chinese New Year in Solvang!
Chinese New Year celebrations are happening now through Tuesday, February 19th, 2019!
Year of the Pig
Did you know that the Chinese New Year 2019 dates start Tuesday, February 5th running through Tuesday, February 19th, 2019?
The animal associated with the Chinese New Year changes in twelve-year cycles. No matter which animal's year it is, however, the duration of the New Year holiday period is also known as "Spring Festival."
Solvang welcomes many Chinese visitors year-round and especially now during this family vacation time—very much like our Christmas or Easter holiday vacation periods.
Taboos
The following are restricted during the celebration of the New Year, in order to avoid bad luck and ensure nothing but good fortune in the year to come.
Negative or pessimistic words: to avoid a jinx
Breaking glass or ceramics: to not break your connection to fortune
Cleaning or sweeping: to avoid throwing away good luck alongside bad
Using sharp objects, including knives or scissors: to avoid cutting off success or wealth
Visiting the family of the bride on the first day of the new year: to avoid marital strife
Demanding repayment of debt: to allow everyone to celebrate without worry
Fighting and/or crying: to ensure a smooth path in the year ahead
Taking medicine: to avoid being sick all year
Wishing Happy New Year to someone in bed: to prevent them being bed-ridden all year
Giving a clock as a gift: the word for clock sounds like the term for paying last respects
Symbolic Food
Traditional Chinese New Year includes many of the country's most enduring culinary exports, such as dumplings (jiǎo zi), spring rolls (chūn juǎn), rice cakes (nián gāo), and especially noodles (cháng miàn). These items have their own associations, mostly related to financial prosperity, but the side dishes or ingredients that often accompany them each carry their own unique symbolism during the holiday. Some examples of these are as follows:
Fish: surplus & wealth
Shrimp: fortune & wealth
Tofu: happiness & fortune for the whole family
Eggs: big & healthy family
Roasted pig: peace
Peaches: longevity
Duck: loyalty
Lobster: endless money rolling in
"China Ready" Outreach
All around the village, you'll see "Happy Chinese New Year 2019" window posters. This is in addition to the innovative, temporary sidewalk chalk stencils in Mandarin, characters that mean "Wish You Good Fortune," a common Chinese New Year greeting. It's all part of the Solvang Conference & Visitors Bureau ongoing "China Ready" outreach.
We wish YOU and your family Good Fortune!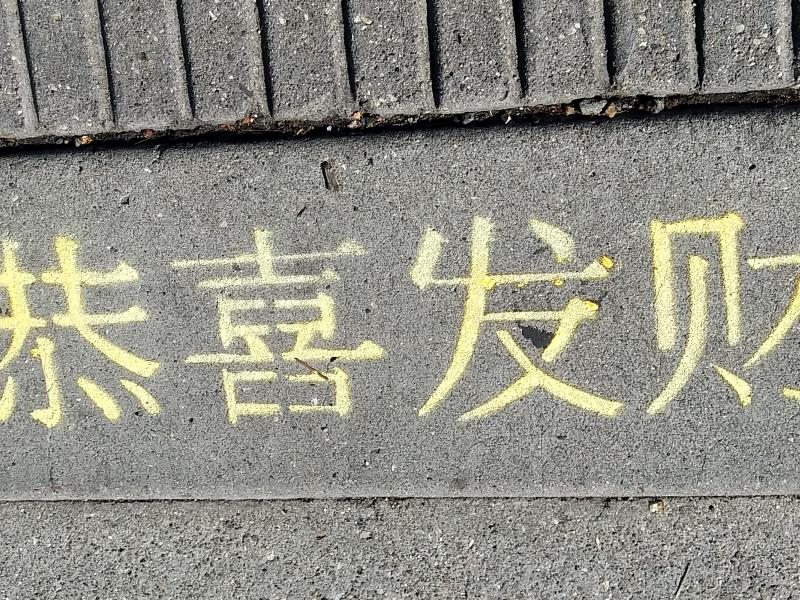 Also in the Blog